AC Repair Gilbert Chandler Mesa AZ and Surrounding Areas.
Agape Air Heating & Cooling
All air conditioners need professional attention to ensure efficient and cost-effective cooling during their life. Irrespective of the efficiency and cost, you will surely have to contact a technician for a professional AC repair schedule for your system. Contact Us Today for AC installation in Gilbert AZ Chandler, Mesa, AZ, and Surrounding Areas.
You can find hundreds of technicians in Arizona who provide repair services for air conditioners, but not all are reliable enough to work on your system. Some may charge you more than the actual price, while others may not have the required training or equipment to fix AC problems.
Agape Air Heating & Cooling is the perfect blend of professionalism, experience, and friendliness that you need for your home and comfort.
Common Air Conditioner Problems
Air conditioners face various problems, but some are more common than others. If your system faces some of these common problems, contact us to book a repair service:
Your system constantly runs due to thermostat or compressor problems.
The system does not power on even though all connections are working properly.
The vents do not give out cool air when the system works or warm air.
Water leakage or refrigerant leakage.
Short-cycling.
The system or condenser coils freeze.
The circuit
breaker connected to the air conditioner trips frequently.
Unwanted smells and noises.
Benefits of Air Conditioner Repair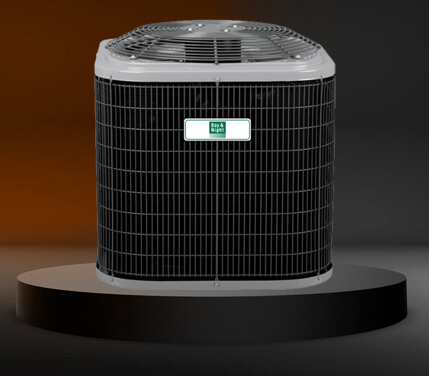 The unwanted big repair bill that your technician gives you saves you from an even bigger replacement bill in the future. Timely repair jobs give you many unspoken benefits such as:
An enhanced overall lifespan of your air conditioner.
Controlled indoor humidity levels.
Upgrades in the system.
Better working efficiency.
Controlled monthly energy bills.
More safety.
Lesser breathing problems and allergies.
What do You Think Happens When a Professional Comes for Air Conditioner Repair?
Knowing what your technician does during the repair job helps you justify the bill and be acquainted with the system. The first step is fixing an appointment with professionals for a repair job and them reaching your place on the fixed date. Then, they will hear out your problem and inspect your system and house for better solutions.
You can expect a complete cleaning of your system and checking the coolant level during the repair schedule. The technician will then use their knowledge and tools to repair your system. It will ensure the best results. Once they finish, they will run the system in front of you to ensure that problem does not persist. So contact our expert technicians for the AC tune up in Gilbert.
Who to hire for a professional AC repair? Hire us:
Agape Air Heating & Cooling for Better Comfort
We started serving families in Arizona in 1995. Our experience is enough to help you with all HVAC problems irrespective of the appliance and complexity. Our dedicated team works solely to finish all requests timely and affordably. Contact our experts for the ductless HVAC service in Gilbert AZ.
Why Agape Air Heating & Cooling for AC repair?
Our technicians offer personalized and customized solutions that differ for each home and system as per their specifications and conditions.
We offer competitive rates for our services as we understand the variety in the financial backgrounds of families living in Arizona.
Our punctuality and dedication are why our customers prefer us over others.
Contact Us Today for AC Repair in Gilbert, Chandler, Mesa, AZ, and Surrounding Areas
Frequently Asked Questions (FAQs)​
How long should you rest your AC?
On mild days, your air conditioner should run for about fifteen minutes, and on hot days, it should run almost continuously to keep your house cool. For the sake of your comfort and your wallet, it is a good idea to have it inspected by a qualified HVAC technician if it struggles to keep up.
What causes AC to stop working?
Why an AC unit stops working:
The thermostat is not working.
Low refrigerant levels.
Obstructed air filters.
The condenser is not cleaned.
Faulty motor.
Faulty power plug or cord.
Your air conditioner is too small.
How do I check my AC refrigerant level?
How to check the refrigerant level in an AC system:
Step 1: Determine the refrigerant type.
Step 2: Verify the pressure.
Step 3: Determine the temperature at which condensation and evaporation occur.
Step 4: Check the installation's temperature.
Step 5: Calculate subcooling and superheating.
How often should AC coils be cleaned?
You should clean the AC coils annually to minimize energy consumption and lower utility costs. Your air conditioning system's energy consumption is predicted to increase by over 30% if the evaporator and condenser coils are dirty.